Pastor Lawrence E. Aker III, serves as the Senior Pastor of Cornerstone Baptist Church located in Brooklyn, New York. Cornerstone was founded in 1917 by a small band of prayer warriors. Pastor Aker succeeded his spiritual mentor Dr. Harry Starks Wright Sr., in 2003 as the eighth pastor in the church's history. 
Committed to helping others, Pastor Aker has a passion for reaching all generations through his preaching and teaching. His support for local and international ministry work runs deep as evidenced by his active engagement in Ecuador, Honduras, and Haiti with compassion International and Leadership Network. Pastor Aker continues in his quest for spiritual knowledge and understanding. He has studied Biblical Archaeology at the Holy Land Institute in Jerusalem. He has also been a participant in Proclaimer's Place, where he has studied at Oxford University (Regents Park), Rome, Paris, Greece, Germany and Switzerland. He counts among his many blessings sharing God's message in Zimbabwe, Africa and leading a group of Cornerstone parishioners to South Africa.
Pastor Aker has published sermons in Oxford Sermons (italics) volumes I and II. He is also a frequent contributor to Preaching Today, "A Rhetorical Analysis of Dr. Martin Luther King"  and has been featured in Leadership Journal.
Our Pastor's Biography
Born Lawrence Aker, III in Oakland, California, Reverend Aker is the eldest of two children of the late Reverend Clyde and Dorothy Aker. At a young age, his family moved to Dallas, Texas. It was in elementary school that Lawrence accepted Christ as Savior, and his interest in church activities began to intensify. After high school, Reverend Aker attended college, where he enrolled in the United States Naval Reserve. It would be a serious illness while in the Naval Reserve that would set Aker on the spiritual path. He experienced a life changing healing while in the hospital infirmary and vowed to spend the rest of his life serving God. Shortly thereafter, he moved back to Dallas, Texas and began serving in the singles ministry of the Concord Church, where he met the love of his life, Cynthia Williams. Lawrence knew from the first day he met Cynthia that God had brought them together. Cynthia had deep Christian roots, evidenced by an abundance of ministers in her family. Her uncle, the late Reverend Dr. E. K. Bailey was the founding Pastor of Concord Baptist Church and served as Senior Pastor for more than 20 years. He was very fond of Cynthia and Lawrence; ultimately serving as a spiritual advisor to Lawrence.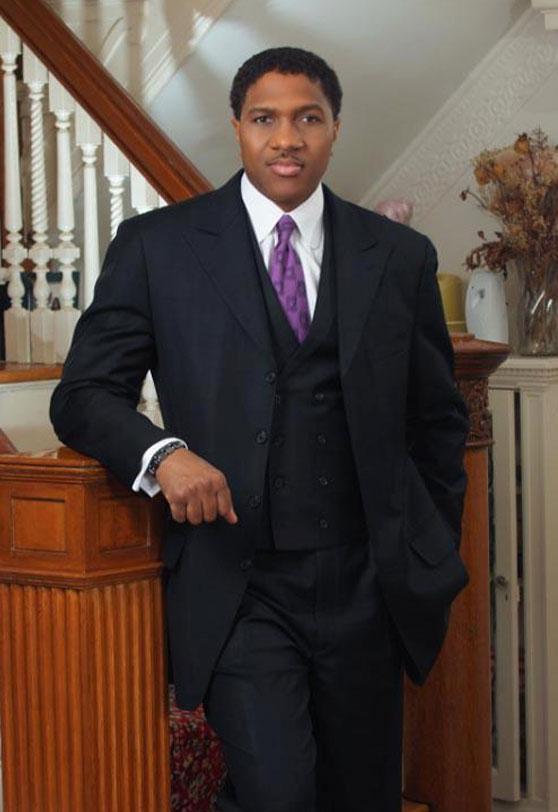 When Cynthia announced that she would be leaving Dallas to attend Howard University in Washington, DC, little did she know that Lawrence was also planning to attend the same university. He went on to graduate cum laude with a Bachelors of Arts degree in Communications. On June 11, 1994, Reverend Aker and Cynthia were married in Dallas, Texas. They would eventually have three beautiful and vibrant children, Lawrence IV, Karina Vivian and Nyla Victoria. Reverend Aker continued to pursue his spiritual and religious studies. He enrolled in Dallas Theological Seminary, where he successfully completed his ThM. promise to God, and also holds a Masters of Sacred Theology from Yale University. Reverend Aker is fascinated with church history and the development of the African American church and is presently pursuing a Doctor of Philosophy degree at Drew University, Madison, New Jersey.
While at Yale University, God would open the door for Reverend Aker to begin his pastoral training at the Cornerstone Baptist Church under the leadership of Dr. Harry Wright, Senior Pastor. In 1998, Lawrence was invited to join the staff as the Associate Pastor of Discipleship and Evangelism. As Associate Pastor, he developed a strong youth Bible study and mission group. He also assisted Dr. Wright with counseling to those in need, visiting members in the hospital, administering funeral services, Bible studies and other pastoral duties. When Dr. Wright announced his retirement in 2003, Reverend Aker was elected Senior Pastor.
Over the past twelve years, under Reverend Aker's spiritual leadership many have given their lives to Christ. Greatly concerned with the spiritual health of the Community, he is transforming lives by responding to the Gospel of Jesus Christ in word and in deed. Those that worship at Cornerstone have a passion for God, life and family. His vision to reach more youth has led to the formation of "Friday Nite Fire." a contemporary weekly Bible Study for youth and young adults. The Women of the Word (WOW) ministry was inspired by Pastor Aker to provide spiritual nurturing for the women of Cornerstone. In 2005, an additional Sunday service was created to provide parishioners convenience and a contemporary style of worship. He has also initiated the Annual Cornerstone Golf Classic, which is held in June, to encourage and fellowship with young men.
Pastor Aker has also led the church through an extensive renovation of the exterior of the edifice and the installation of a state of the art audio-visual and technology systems. In the near future, the church will break ground to renovate their gymnasium and Community Center.
To whom much is given, much is required. Reverend Aker has a passion for God and is dedicated to preaching and teaching the Word to bring all people to Christ.
First Lady Mrs. Cynthia D. Aker Children: Lawrence E. Aker IV, Karina Vivian Aker, Nyla Victoria Aker Education: Howard University: BA Dallas Theological Seminary:ThM Yale University Divinity School :STM Baylor University Truett Seminary: PhD Candidate Affiliations: National Baptist Convention, Inc. Empire Baptist Convention Pan Hellenistic: Omega Psi Phi, Incorporated Hobbies: Family travels, Kickboxing and attending Las Vegas Raiders games