Deaconess Tommie L. Joiner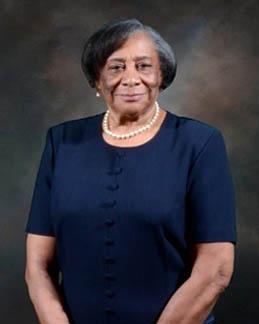 Deaconess Tommie L. Joiner is President of the Deaconess Ministry, a position she has held since 2009. She also serves as the Vice President of the Missionary Society and as a certified instructor of the Sandy F. Ray Institute. Deaconess Joiner began her Christian journey and service in Summerton, South Carolina, where she was born and raised. For more than fifty years, Deaconess. Joiner has been a faithful servant and member of Cornerstone Baptist Church. She has a passion for God, and finds no greater honor in her life than to serve the Lord. She is a living example of how God can bring you to submission and order your steps to use you to His glory.
Where there is a need, you will find Deaconess Joiner lending a helping hand. She is teacher, facilitator and counselor; using her professional training in human service with the New York City Board of Education. Her commitment to helping others to expand their knowledge and understanding of God's word is visible in areas, including but limited to, the Board of Christian Education, Women of the Word and Victorious Disciples. She is also actively involved with the Church's Food Services program to deliver food to those in need.
Deaconess Joiner exercises her faith in God daily. She draws strength from her favorite scripture, "He said to me, This is the word of the Lord to Zerubbabel; Not by might, nor by power, but by my spirit, says the Lord of hosts." Zechariah 4:6 (NRSV)
Deaconess Joiner earned an Associate of Applied Science Degree in Human Services from New York Technical College, Brooklyn, New York. She is a triple graduate of the Lighthouse Christian Seminary and Community Bible Institute in Brooklyn (Bachelor of Theology, Master of Christian Counseling and Doctor of Divinity). At the present time, she is on leave from All Saints Chaplaincy Academy in Hempstead, New York and plans to return in the future. Following 35 years of service, she retired from the City of New York Board of Education as a Human Services Professional. Deaconess Joiner resides in Brooklyn, New York and is the widow of the late Eugene Joiner and loving mother of two daughters Audrey and Karen. She enjoys being a grandmother to Adrienne, Brittany and Simone.